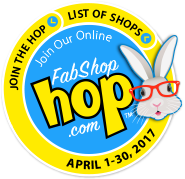 The APRIL bunny wants to start a NEW Block of the Month for Spring!!
Visit the online store: use the drop-down menu and find our LAST ONE LEFT / 6 FREE FATS department! Purchase any sale kit from that department, and receive 6 FREE fat quarters as our gift! LIMITED SUPPLY. In most cases, we only have one kit left...(sometimes there's two). NO LIMIT. We will add the free fat quarters for EVERY kit purchased from the Last One Left department!

While supplies last...


Thank you for exercising
your fabulously good taste
and visiting us at peggyannes.com.

-Peggy Anne

Office hours:
10-2 .Tuesday.Wednesday.Thursday
online shopping open 24 hours
$7.50 flat rate shipping: FREE USA SHIPPING ON ALL ORDERS OVER $75!